To search this site, click here.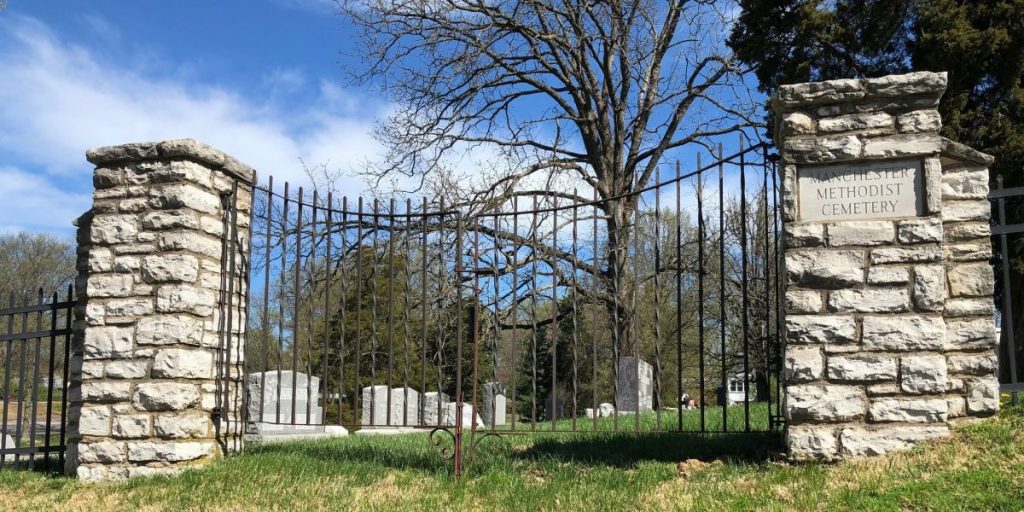 The Manchester United Methodist Church Cemetery, John Wesley Ward Memorial Wall, and the Manchester UMC Columbarium were established for the purpose of providing an appropriate and dignified final resting place for members or those having a relationship with Manchester UMC or any other United Methodist Church. This includes parents, siblings or children of the deceased. They are not open to the public.
The property for the cemetery was deeded to the Methodist Episcopal Church of Manchester, Missouri in 1880. However, the first recorded burial was that of Joseph Harrison, August 9, 1852.
All of the plantings in the Cemetery and the Memorial Garden have been given in memory of loved ones. No additional plantings are accepted without the approval of the Cemetery Committee. Memorial services are to be scheduled and planned by the family with the Manchester UMC clergy.
Cemetery Endowment Fund
The Cemetery, John Wesley Ward Meditation & Memorial Wall, and the Manchester UMC Columbarium operate independently of the church. The cost of maintaining the grounds comes from proceeds of the sale of burial plots, Columbarium niches, and Memory Wall inscriptions. The obligation to maintain the grounds, Columbarium, and wall extends into perpetuity. The sale of plots, niches, and inscriptions will someday not provide income needed for maintenance.
A Manchester UMC Cemetery Endowment Fund was established in 1993. The fund is a custodial account with the Missouri United Methodist Foundation. The Manchester UMC Endowment Committee has oversight of the financial aspects of the fund while the Cemetery Committee is responsible for decisions regarding the use of the fund. Currently, the Endowment Fund has assets of approximately $100,000. Based on current maintenance costs, the Endowment and the Cemetery Committee believe it will take a fund of at least $200,000 to provide enough returns to cover maintenance costs when proceeds from new sales no longer cover costs.
Information on making gifts to the Endowment Fund directed to the Cemetery Fund can be found on this page.