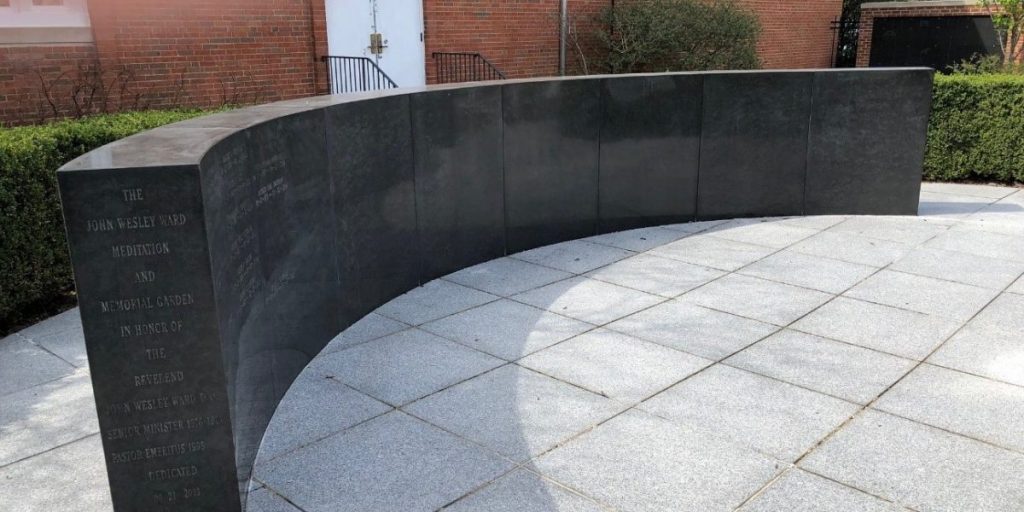 The Memorial Wall was established in 2002 and is named after John Wesley Ward, Pastor Emeritus of Manchester United Methodist Church. The Memorial Wall is located in the Meditation Garden at the Northwest corner of the Sanctuary just outside of the Marble Entrance. It is offered to those whose remains are not available for ground burial or in-nichement of cremated remains and are not interned in any other location. A space may be pre-purchased, which includes engraving of name and birth and death dates. Insignias, emblems or verses are not permitted. There are no other charges. The engraving will not take place until the death occurs. Care of the Memorial Wall and Garden is the responsibility of the Memorial Garden Committee.
To search this site, click here.
Cemetery Endowment Fund
The Cemetery, John Wesley Ward Meditation & Memorial Wall, and the Manchester UMC Columbarium operate independently of the church. The cost of maintaining the grounds comes from proceeds of the sale of burial plots, Columbarium niches, and Memory Wall inscriptions. The obligation to maintain the grounds, Columbarium, and wall extends into perpetuity. The sale of plots, niches, and inscriptions will someday not provide income needed for maintenance.
A Manchester UMC Cemetery Endowment Fund was established in 1993. The fund is a custodial account with the Missouri United Methodist Foundation. The Manchester UMC Endowment Committee has oversight of the financial aspects of the fund while the Cemetery Committee is responsible for decisions regarding the use of the fund. Currently, the Endowment Fund has assets of approximately $100,000. Based on current maintenance costs, the Endowment and the Cemetery Committee believe it will take a fund of at least $200,000 to provide enough returns to cover maintenance costs when proceeds from new sales no longer cover costs.
Information on making gifts to the Endowment Fund directed to the Cemetery Fund can be found on this page.